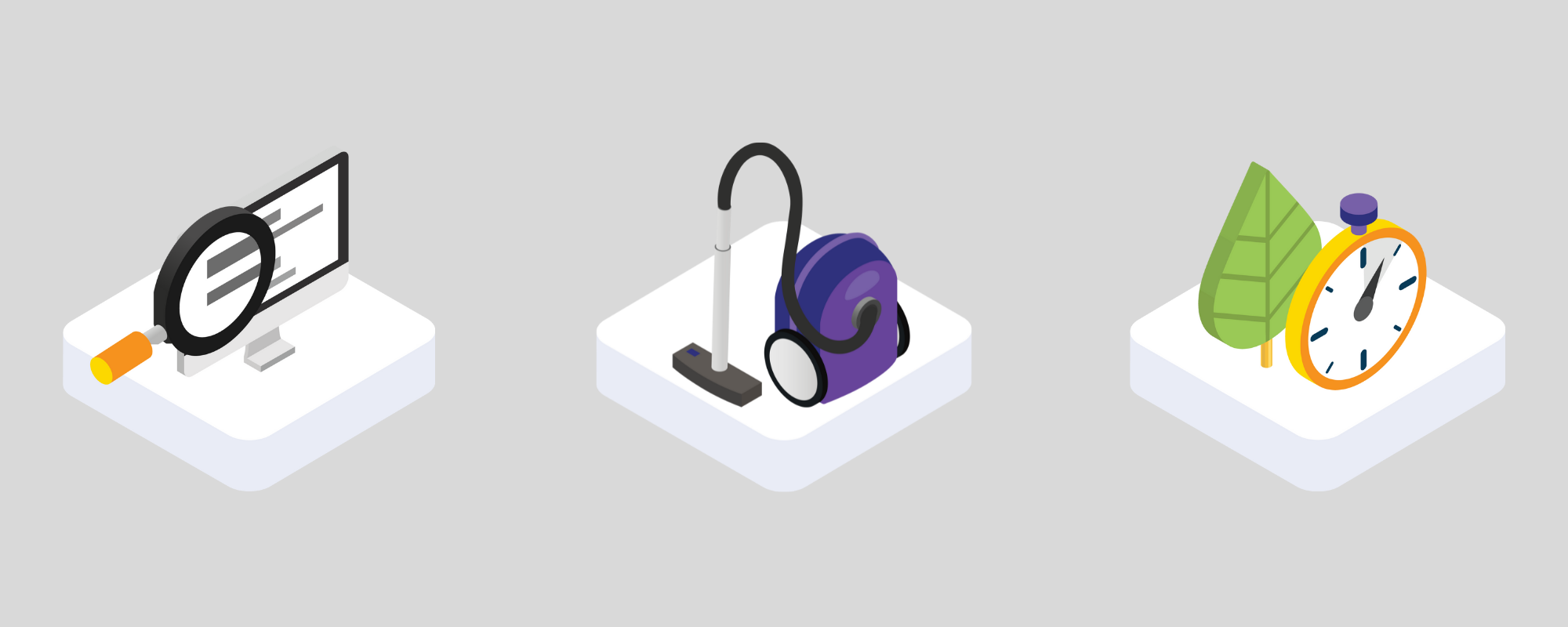 Sixtus Cloud Scanner
GDPR Compliance of Unstructured Data
Most organization have already implemented strict GDPR guidelines and policies for their structured data (fields in databases and interfaces). However, a bigger challenge is the unstructured data, received as attachments in emails and stored into folders on share drives. Users have great freedom in deciding what to with their data making it harder for an organization to manage its lifecycle.
Problem
Knowledge
42% of EU-employees do not know if a document is to be saved or deleted*
39% of EU-employees do not know where their potentially GDPR documents are located*
Organization
GDPR documents are hidden in e-mails attachments, forgotten folders in OneDrive and SharePoint
Control
90% of EM-corporation expect the deleting of customer data to be challenging*
Data governance for unstructure data is hard to monitor across an organization
Solution
Educate
Educate your employee by tagging (categories) all messages and attachments in Outlook-365 as they receive or send them.
Categorize all files in OneDrive and SharePoint into GDPR categories and provide a web front-end to the user for the files they own and their GDPR categories
Empower
Allow your employee to take action as soon as they receive a GDPR document to store it at the right place or delete it before it gets lost in the e-mail history or forgotten OneDrive/SharePoint folder.
Control
Allow the GDPR administrator team to view the statistics, per user, on how many email/attachments and files are subject to GDPR and their age in days.
Your Data - Your rules
Confidentiality
Emails, Attachments and documents are scanned in memory without copying data to disk or to outside hosts.
Scanner runs as a SAAS cloud service on your O-365 tenant. Sixtus or any other 3rd party does not have access to it.
Data Ownership
Documents are not deleted but deletion lists can be easily created by administrators and monitored that respective users have indeed deleted or store away their data.
Documents are not modified by the scanner. Emails get a category attached to the message header.
OneDrive and Sharepoint datasets are inspected and result stored into one or your databases (or we can provide one, that you manage yourself).
Control
Data governance can be monitored by the  DPO team to ensure that attachments are handled before they get lost into the user's email or share drives. Weekly progress report on the handling of data can be distributed from the DPO office to the different department managers.
Simplicity
Simple categories
Sixtus scanner reports 3 levels of GDPR compliance issues in 3 colours.
GDPR
Objects/Documents or Emails containing ordinary personal information, identifiable individuals, addresses and demographics.
GDPR Confidential
Objects/Documents or Emails with financial and legal information, for example pay checks and invoices.
GDRP Sensitive
Objects/Documents or Emails with sensitive personal information, such as health related information, affiliations and orientations of religion, sexuality, trade union and insurance.
Reporting
Outlook Reporting
Sixtus Cloud Scanner assigns up to 3 categories (see above) for each message in 3 different colours.
The categories are visible on the Outlook App (PC or Phone) as well as the web front-end of Outlook.
If the message body or any of its attachments have GDPR sensitive data, the message gets categorized.
For more details on which attachment or which part of the message greated a GDPR alert, the web front-end gives this information.

As a standard feature in Outlook, users can group per categories and date ranges. A possible policy for an organization could be to have no GDPR messages that are older than 6 months old in their Inbox folder. 
Web Reporting
The web reporting is very rich and has a lot of drill down features. Only a subset are displayed here.
The screen below are taken from an administrator view but the user has the same information but only for its own data.
The reports shows two important pie charts. To click on ony of the slices, updates the data to reflect the GDPR issues that makes the slice.
The 3 check boxes on the left limits the reporting to Mail, OneDrive or SharePoint.
On the left, the 3 categories matching the colours of the categories in Outlook.
On the right, the GDPR domain that are part of each of the categories with a green, orange or red shade.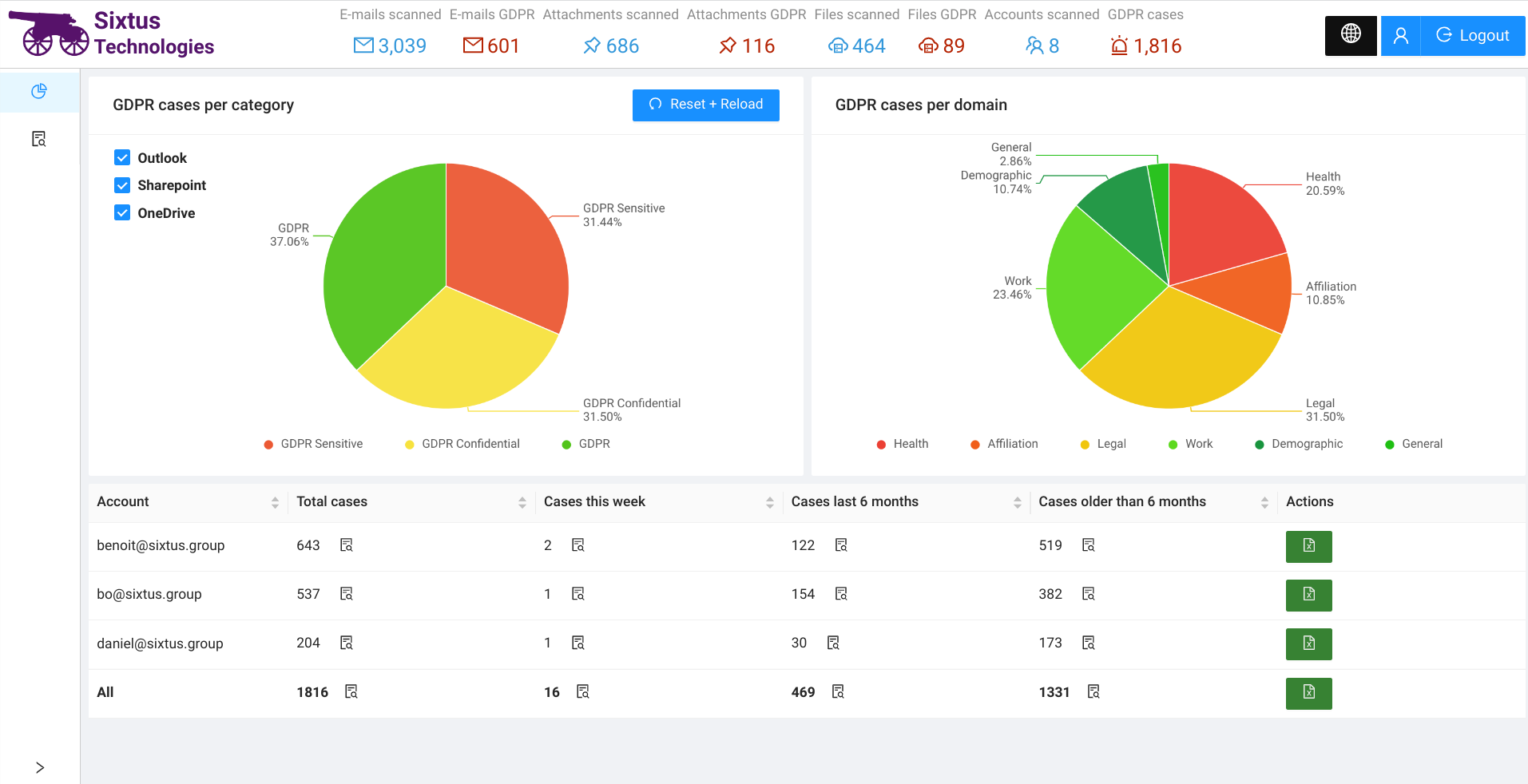 Below the pie chart, the biggest sinners are dispayed along with the age of each violation. In the above example benoit@sixtus.group has 519 GDPR issues that are more than 6 months old.
The green icon at the end of the line downloads a CSV with the detailed violation.
Web Reporting - Detail Reporting
If we drill down into a user, (by clicking on any number in the lower pane), we get the GDPR issue related to the selection.
In this example, 2 files on OneDrive have GDPR issues.
Export to CSV is also possible from this drilled down report.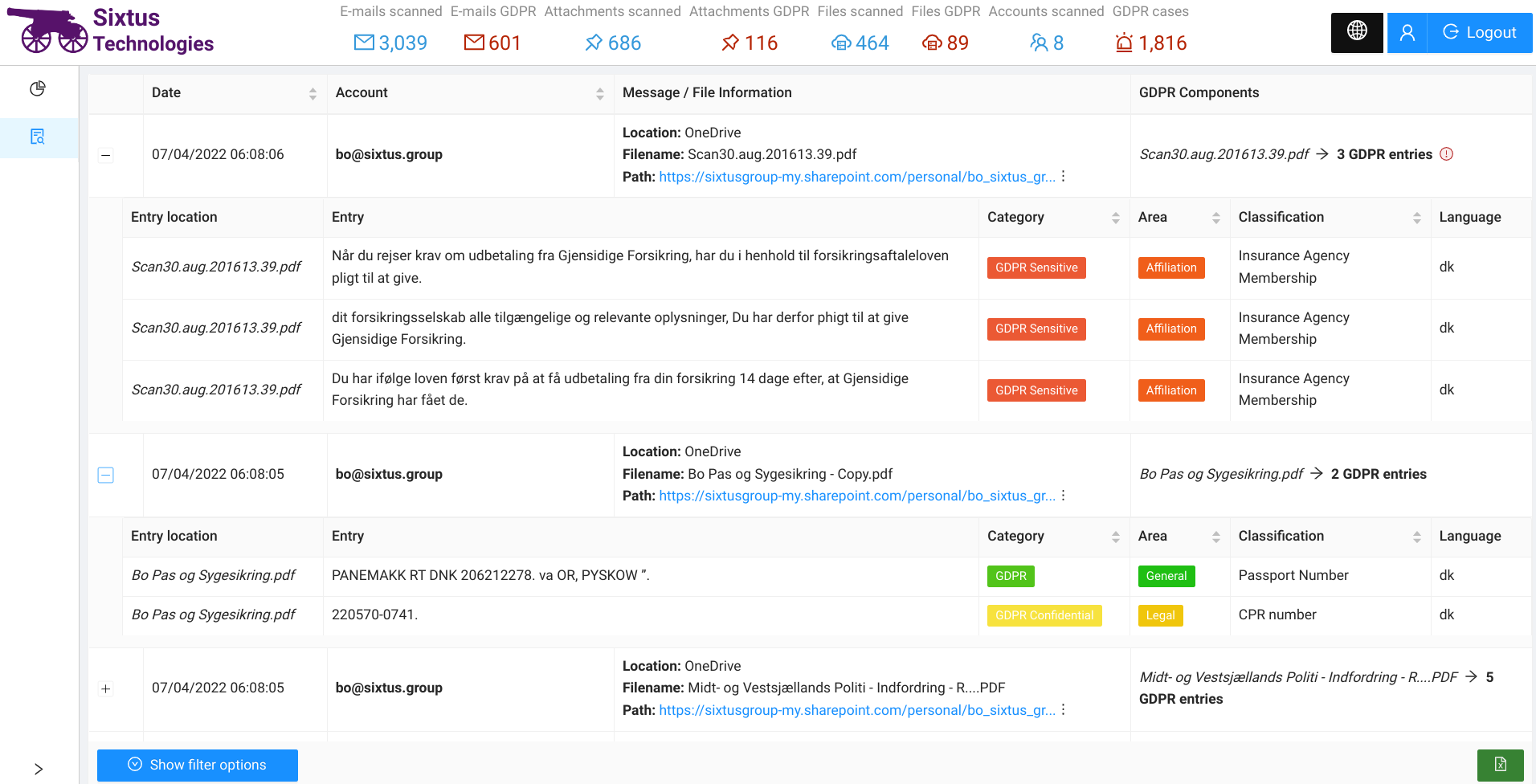 Price and Contact
Price
Installation: 10.000 DKr (2 days of work)
+
Monthly per user: 28 DKr
+
Azure Cost (function App)
Contact
Want to know more about the Sixtus Scanner?
Call Bo on +45 30 65 43 35 or Jonas on +45 29 89 65 81
or send us a message